The meeting takes place at: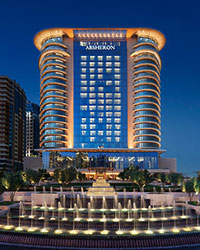 Marriott Absheron Baku Hotel
674 Azadliq Square
Baku, AZ-1010
Azerbaijan
T: +994 12 499 88 88
Website | Floorplan | Visitor's Guide
The hotel is situated in Baku's city centre on the Azadliq Square and directly connected to Baku Boulevard. The estimated one-way taxi fare from the airport is AZN 20 (apx. EUR 19) and takes about 30 minutes.
The Marriott Absheron Baku Hotel is offering meeting attendees a hotel room rate of AZN 180 per night (apx. EUR 169) including breakfast and Internet, excluding 18% VAT and AZN 1.1 municipality tax.
To reserve a room, please use this online form.
Visa
Attendees from Russia, Turkey and the CIS countries do not need a visa to travel to Azerbaijan. Participants from other countries can receive visa support from special agencies. Here is a list of agencies approved by the Republic of Azerbaijan. Please consider that visa applications take fifteen working days to process from the date of application. The service costs about AZN 48 (apx. EUR 45).
For quick visa support, please send a request to Yuliya Konoplyanko with ENOG 8 as a subject. If you have any difficulties on the way, you can always contact us at enog [at] ripe [dot] net for support.
Alternative Accommodation
If you prefer to stay somewhere other than the ENOG Meeting venue, you can choose from a number of hotels within walking distance. The RIPE NCC neither recommends nor guarantees the quality of the hotels listed. Alternative hotel options can be found via booking.com, hotels.com or through a travel agent.
Caspian Guest House
Rihard Zorge Street 8, Baku
+994 12 498 9855
Rates start from EUR 150, including breakfast, WiFi and VAT
Distance: 2 min walk (130m)
12 Inn Bulvar
Gadzhibekov 27, Baku
T: +994 12 498 1203
Rates start from EUR 150, including breakfast, WiFi and VAT
Distance: 5 min walking (450 m)
Hotel Sea Port
Neftchlilyar Avenue 58, Baku
T: +994 12 498 1013
Rates start from EUR 84, including breakfast and WiFi, excluding VAT
Distance: 4 min walk (200m)
The Empire Hotel
Khaqani 49, Baku
T: +994 12 598 2123
Rates start from EUR 102, including breakfast and WiFi, excluding VAT
Distance: 6 min walking (550 m)
The Landmark Hotel
Nizami Street 90A, Baku
T: +994 12 465 2000
Rates from EUR 229, including breakfast and WiFi, excluding VAT
Distance: 7 min walking (550 m)
Hilton Baku
Azadliq Avenue Abseron 1B, Baku
T: +994 12 464 5000
Rates start from EUR 212, including WiFi, excluding breakfast (apx. EUR 12), excluding VAT
Distance: 9 min walking (750m)
Ganjali Plaza Hotel
Uzeyir Hajibeyov Street 48, Baku
T: +994 12 498 9290
Rates start from EUR 216, including breakfast, WiFi and VAT
Distance: 14 min walk (1.2 km)
Этот текст также доступен на
русском